The boathouse is open for business - boat repairs and boat storage.
01328 738348
Although this website is still "under construction", the webcam on the right is working. It has a new image every few minutes so please "refresh" your browser to get an updated view out of the Burnham Overy boathouse window.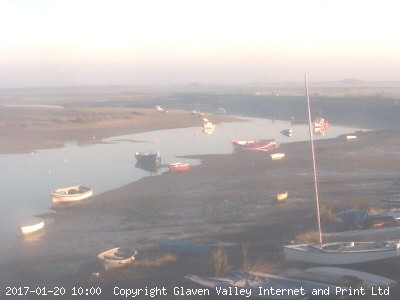 Hirers must agree to full terms and conditions and will be liable for all damage, accidents or incidents whilst kayak is/are under their control. Kayaks may not be hired by anyone under 8yrs old. Any children between the ages of 8 & 16 must be supervised by an accompanying adult at all times. Kayak deposit £200. this is a paper deposit.
per day
2 days
per week
(low season)
per week
(high season)
1 person
£18
£30
£40
£70
2 person
£28
£40
£60
£95
Buoyancy aids to be worn at all times
per day
2 days
per week
buoyancy
£5
£8
£18
Tel: 01328 738348
SUMMER SEASON
DINGHY PARK
Under 12'
12' - 14'
14' - 16'
Over 16'
Period
1 week
£32
£32
£38
£45
1 month
£64
£64
£77
£90
6 mnths
£141
£160
£173
£179
DRY STORAGE
Under 12'
12' - 14'
14' - 16'
Over 16'
Period
1 week
£32
£32
£38
£38
1 month
£64
£64
£77
£77
6 mnths
£128
£153
£160
£192
WINTER SEASON
DINGHY PARK
Under 12'
12' - 14'
14' - 16'
Over 16'
Period
6 mnths
£96
£96
£96
£119
DRY STORAGE
Under 12'
12' - 14'
14' - 16'
Over 16'
Period
1 week
£32
£32
£38
£38
1 month
£64
£61
£77
£77
6 mnths
£128
£153
£160
£192
FOR THE YEAR
MOORINGS
£224
CANOES
£64
ENGINES
ROAD TRAILERS
£64